nano duo™ travel system bundle
go easy with two
nano duo™ travel system bundle
go easy with two
nano duo™ is an incredibly light and easy to manoeuvre side-by-side buggy that is great for travel or for families that require the perfect urban solution for two.
protect™ infant car seat provides protection, versatility and comfort for your baby while offering convenience on the buggy or in the car.
class leading rating by Child Restraint Evaluation Program (CREP)

complies with ECER44/04 - Europe safety standard

protect™ features huge high side protection with thick EPS foam for impact absorption

convert to a travel system with the included FREE travel adaptor
NEW  

built-in and fully extendable, breathable cover with UPF 50+ sun protection
3 car seat installation options:
install the universal base, using your car's seat belt.

 

Click here

 

to learn more
install the ISOfix base, securing the base to ISOfix anchor points.

 

Click here

 

to learn more
install using your car's seat belt
what's in the box:
nano duo™ buggy

protect™ infant car seat, with 5 point safety harness

nano duo™ travel system adaptor
We encourage customers to always check the integrity of their car seat & base, and have it have it installed by a trained professional. 
Need to buy a nano duo™ travel system for twins? Find that here
what makes nano duo™ unique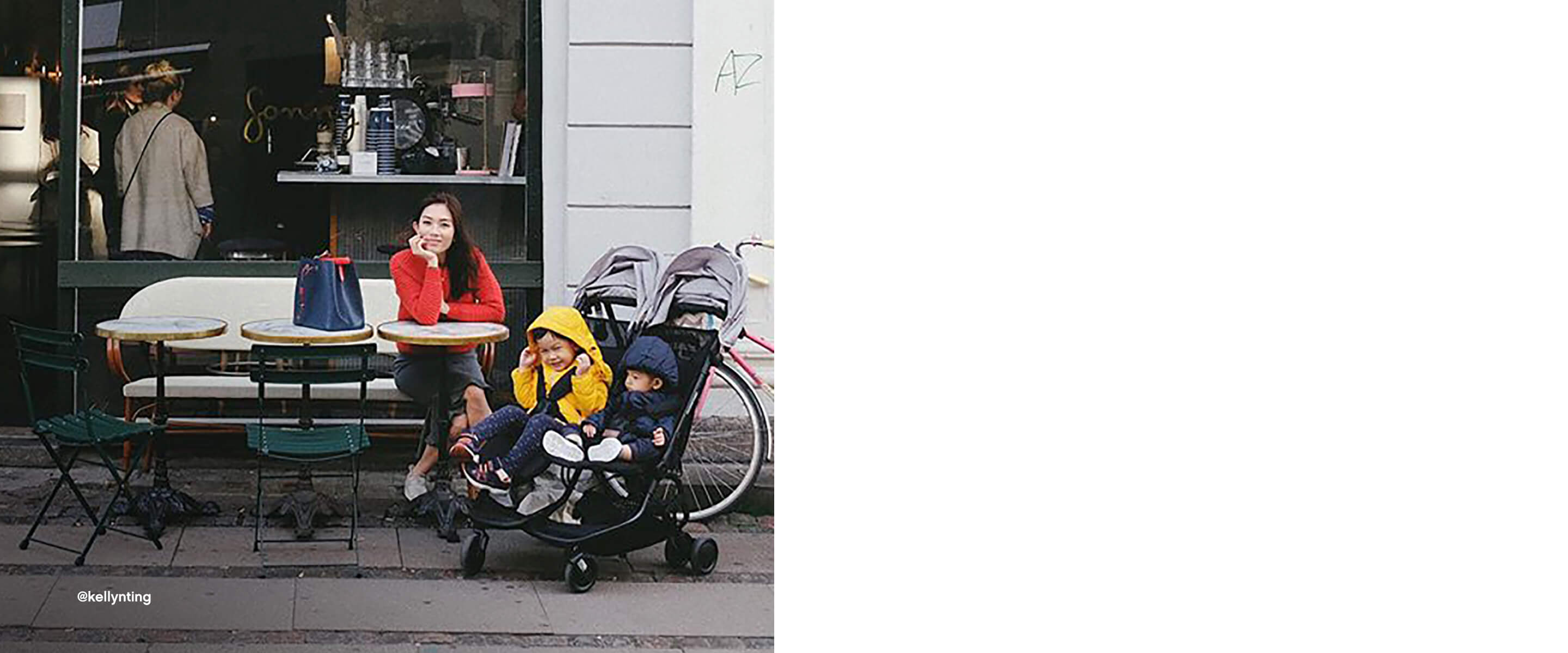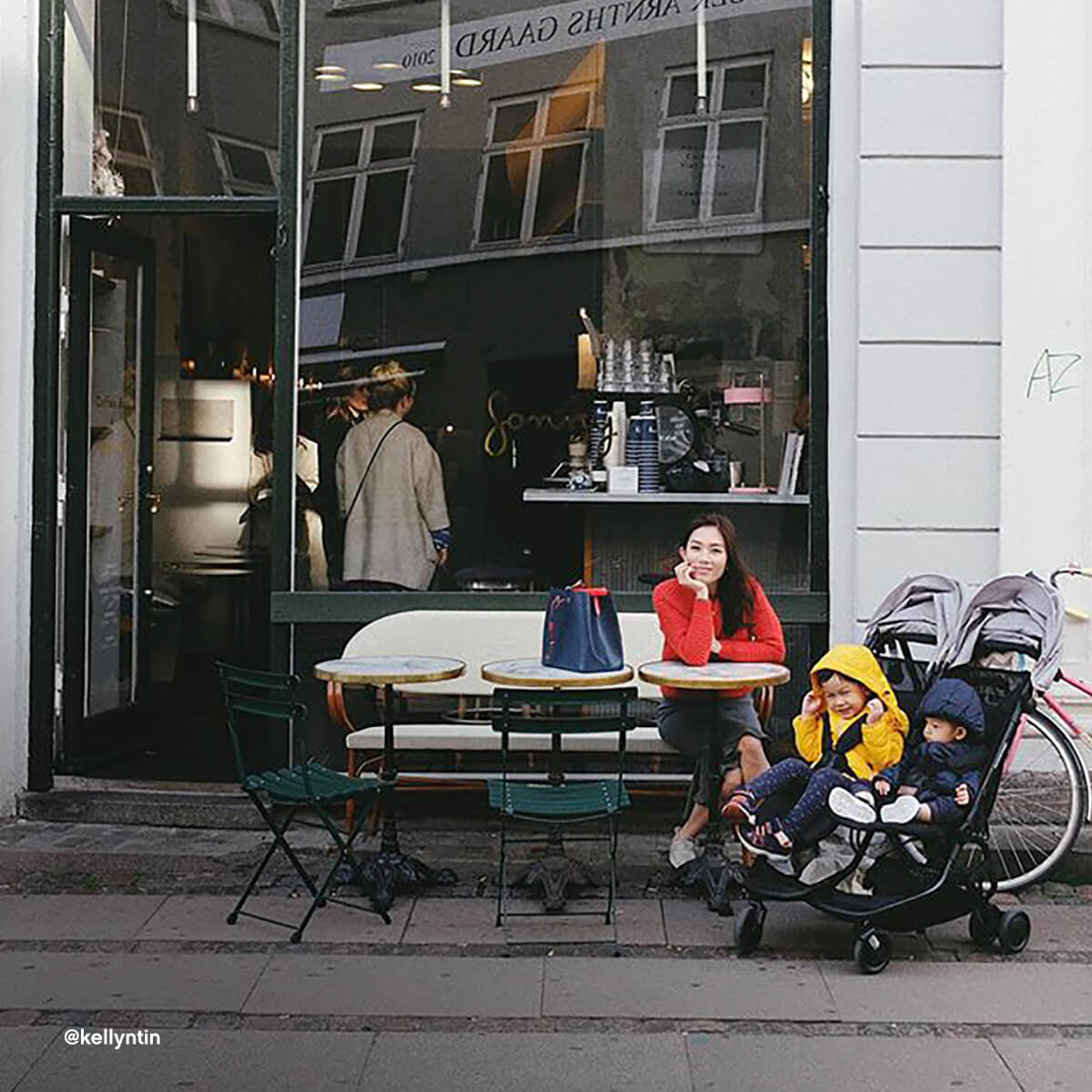 built from a Red Dot award winning platform
Designed and engineered upon the global sensation nano™ – the compact buggy that delivers the art of travelling light. nano duo™ is quite simply two nano™ buggies put together – delivering that same compact, ease and capability that a little travel buggy offers.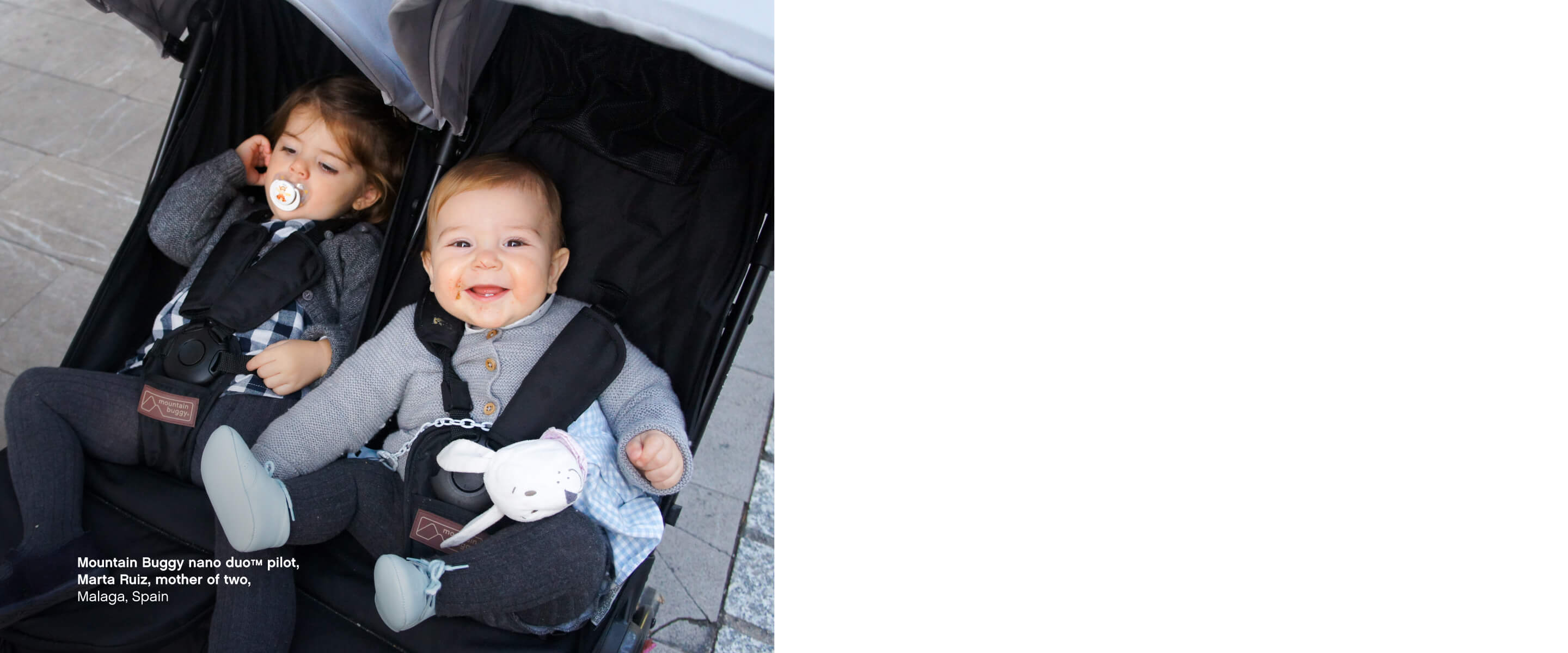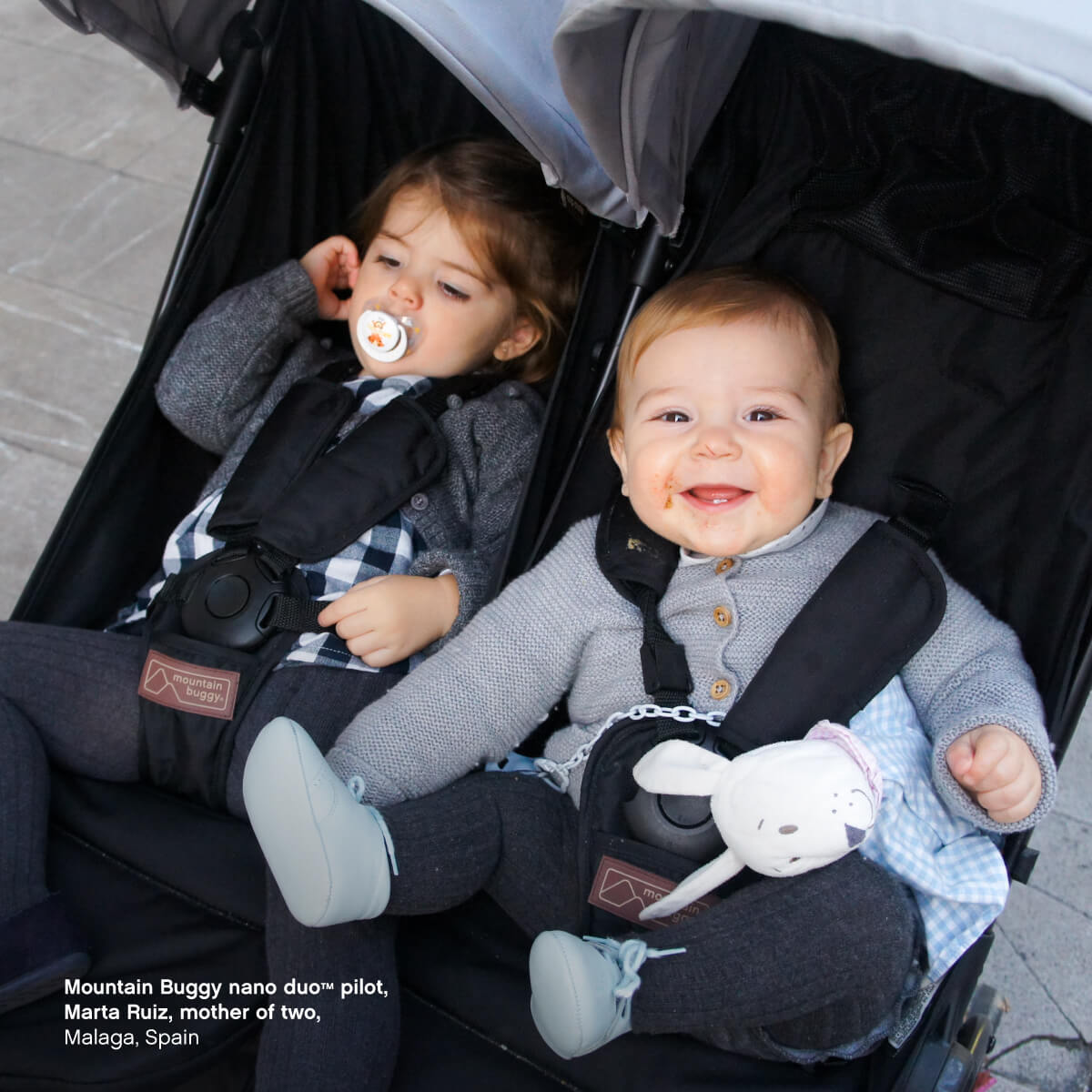 YOU asked for it
While nano™ achieved outstanding popularity around the world, we saw how many parents struggled with the flimsiness and featureless qualities of double umbrella strollers. They couldn't tackle any off pavement terrain, the folds were cumbersome, the seats small and the solutions for newborns were limited. Our customers often asked for a side-by-side nano™. At Mountain Buggy®, we listen, develop and deliver; bringing you the ultimate lightweight, compact, urban side-by-side – nano duo™.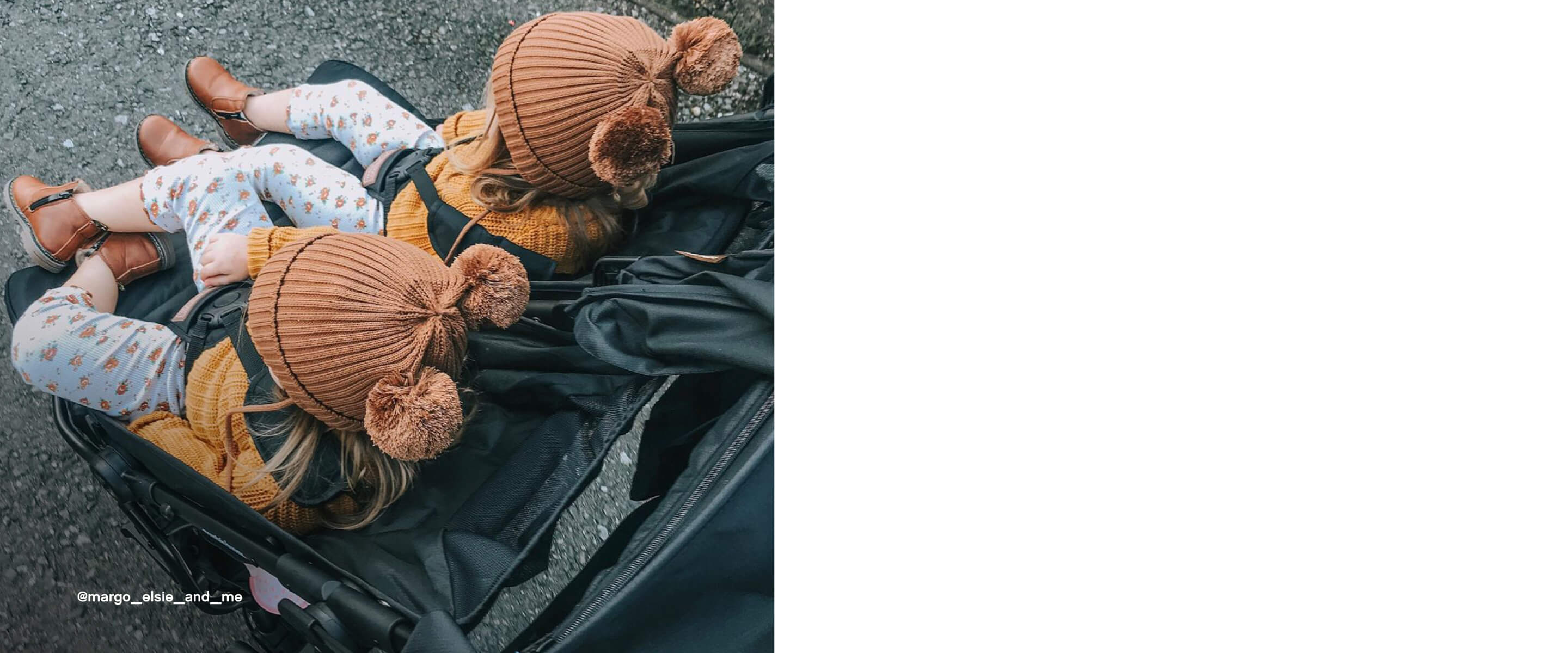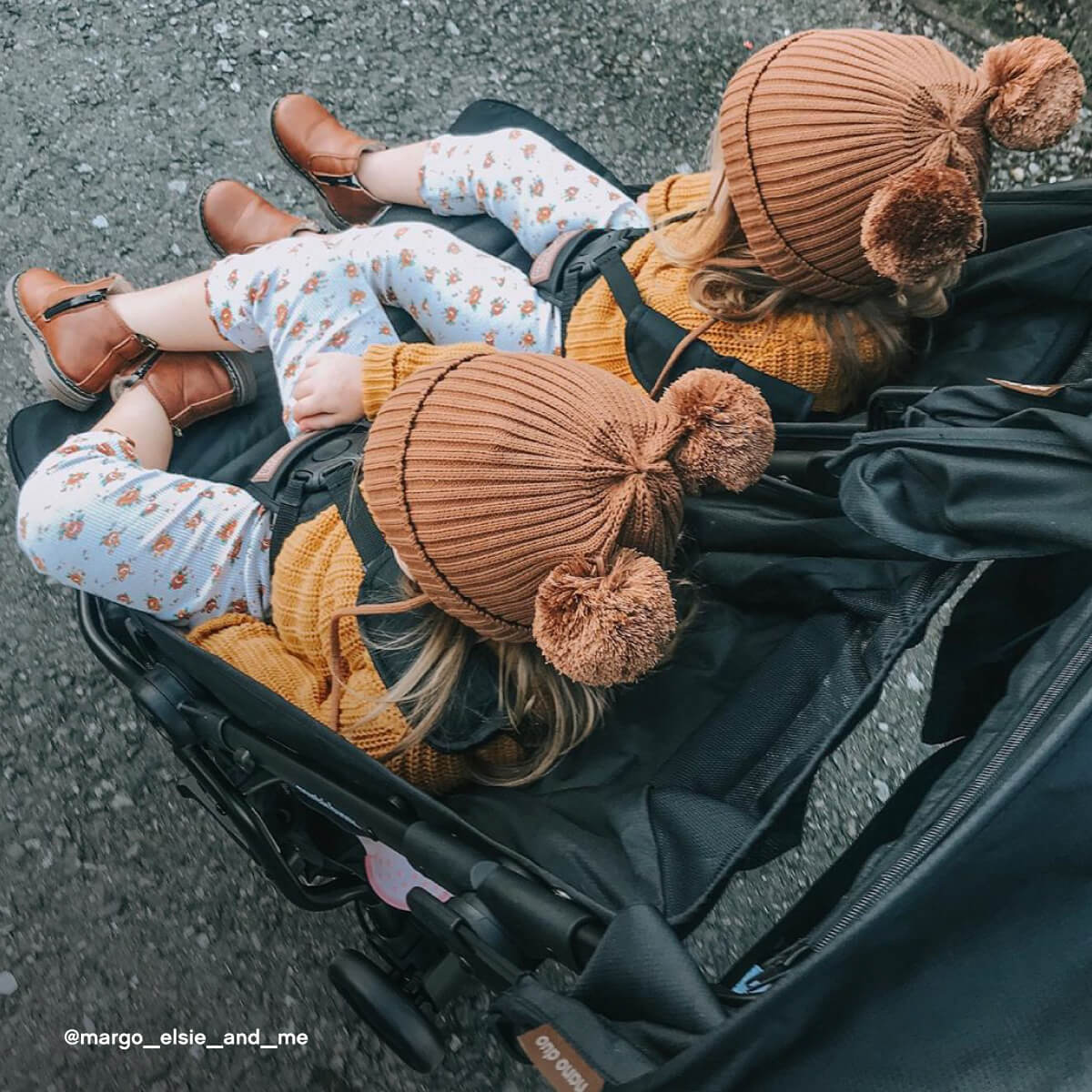 world class in safety, stability and materials
nano duo™ passes all rigorous global standards, and is made of super high quality 6005A T5 aircraft grade lightweight aluminium, making it superior in strength, yet ultra lightweight for a compact, side-by-side buggy.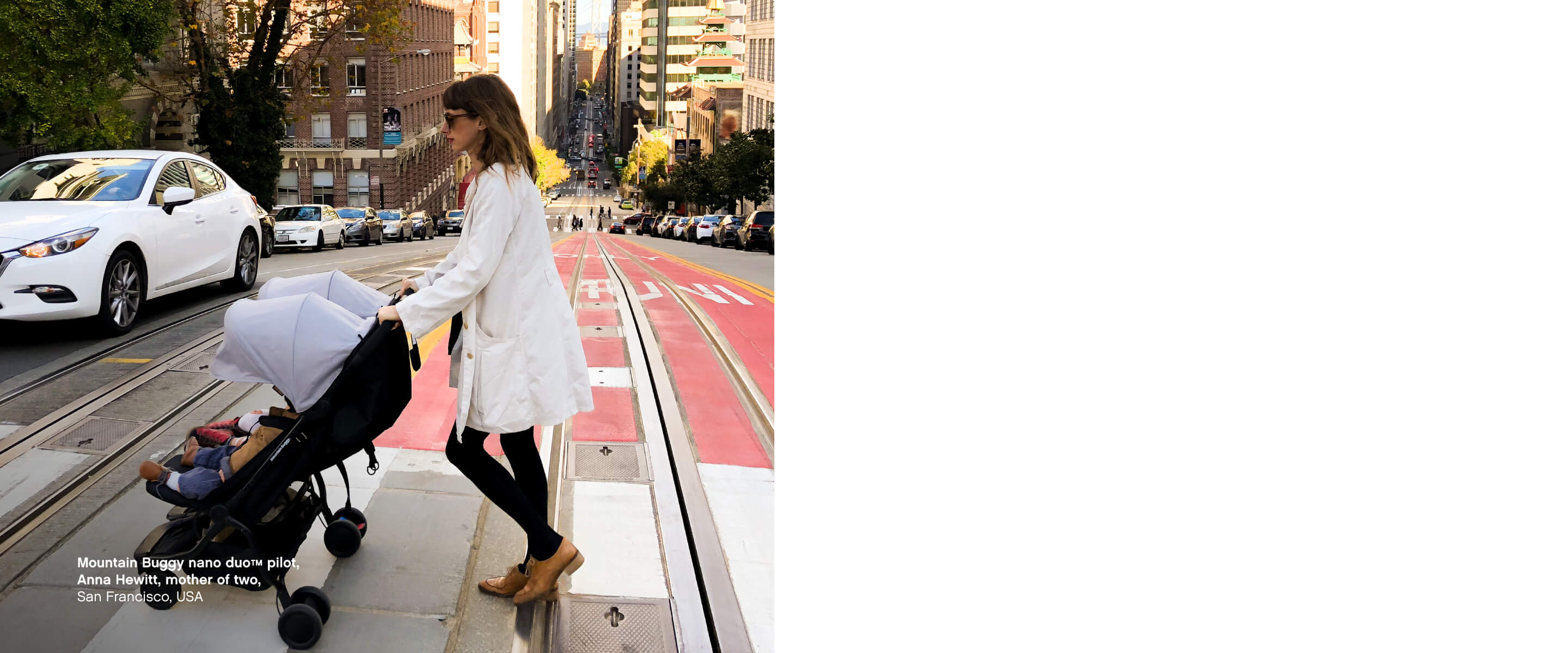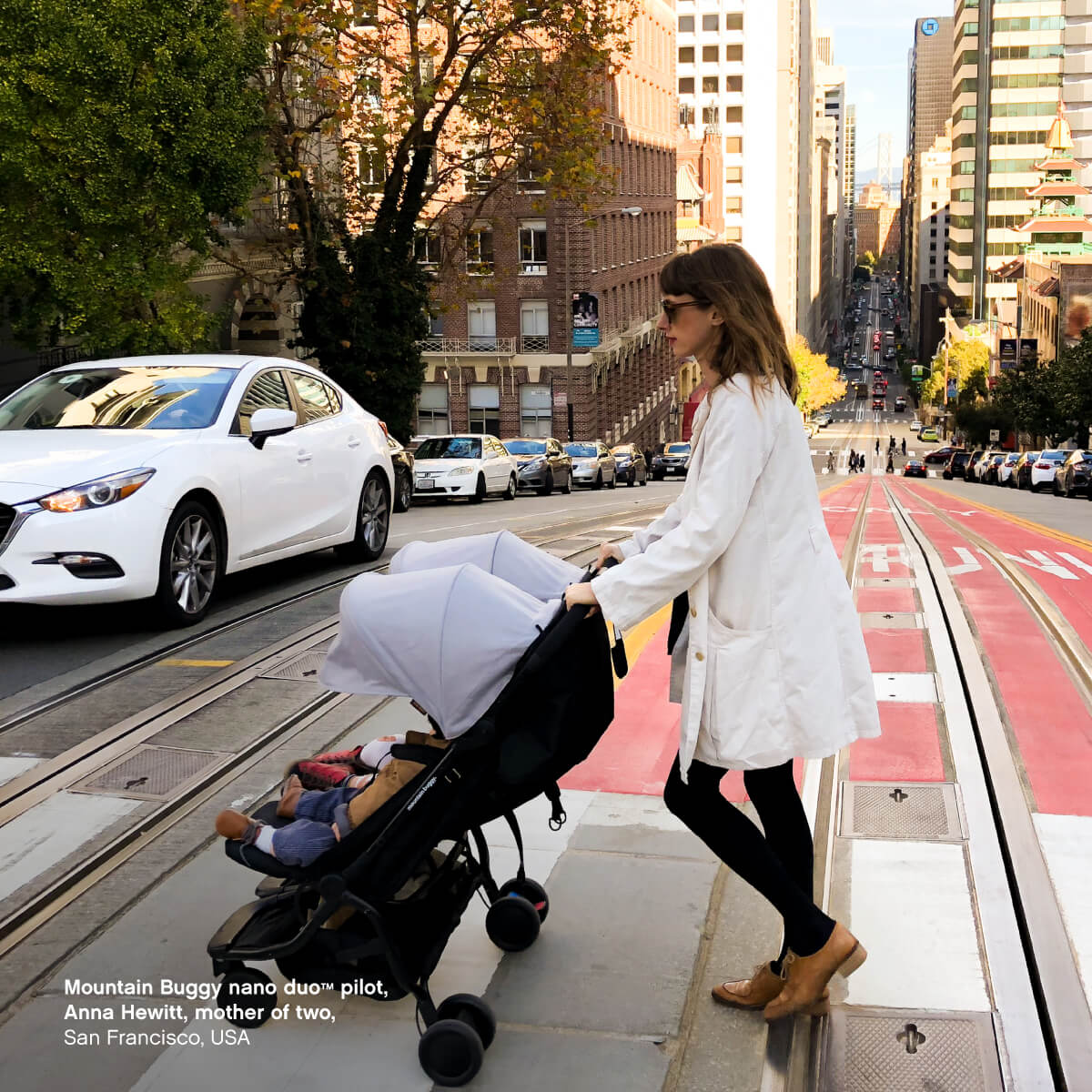 superior manoeuvrability and kerb pop
Revered for exceptional engineering and design, nano duo™ delivers sublime steering with one hand, and turns on a dime thanks to its perfect weight distribution and front wheels that 360º swivel - so easy to pop up over kerbs and obstacles too.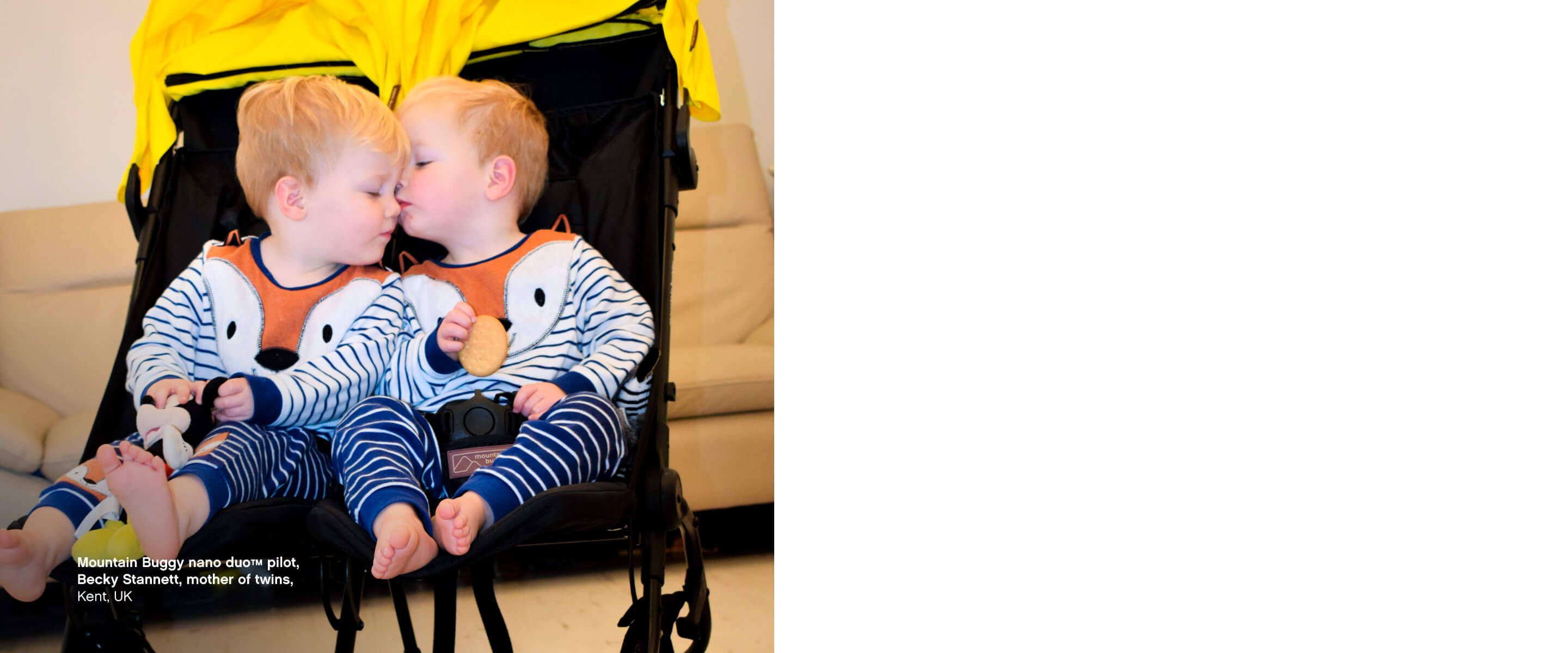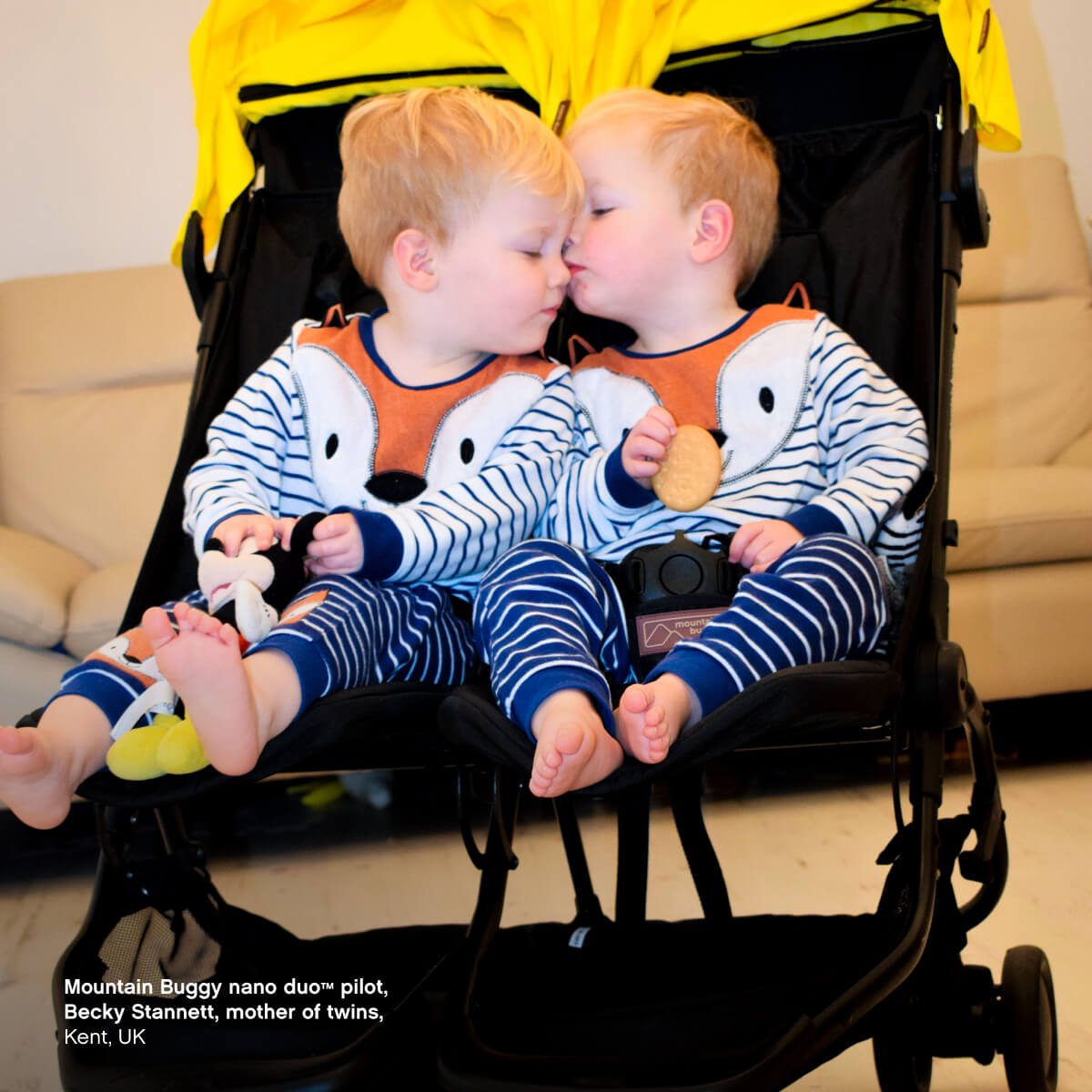 incredibly affordable
Parents deserve the robust and trusted engineering of Mountain Buggy®, so we deliver to be accessible to many.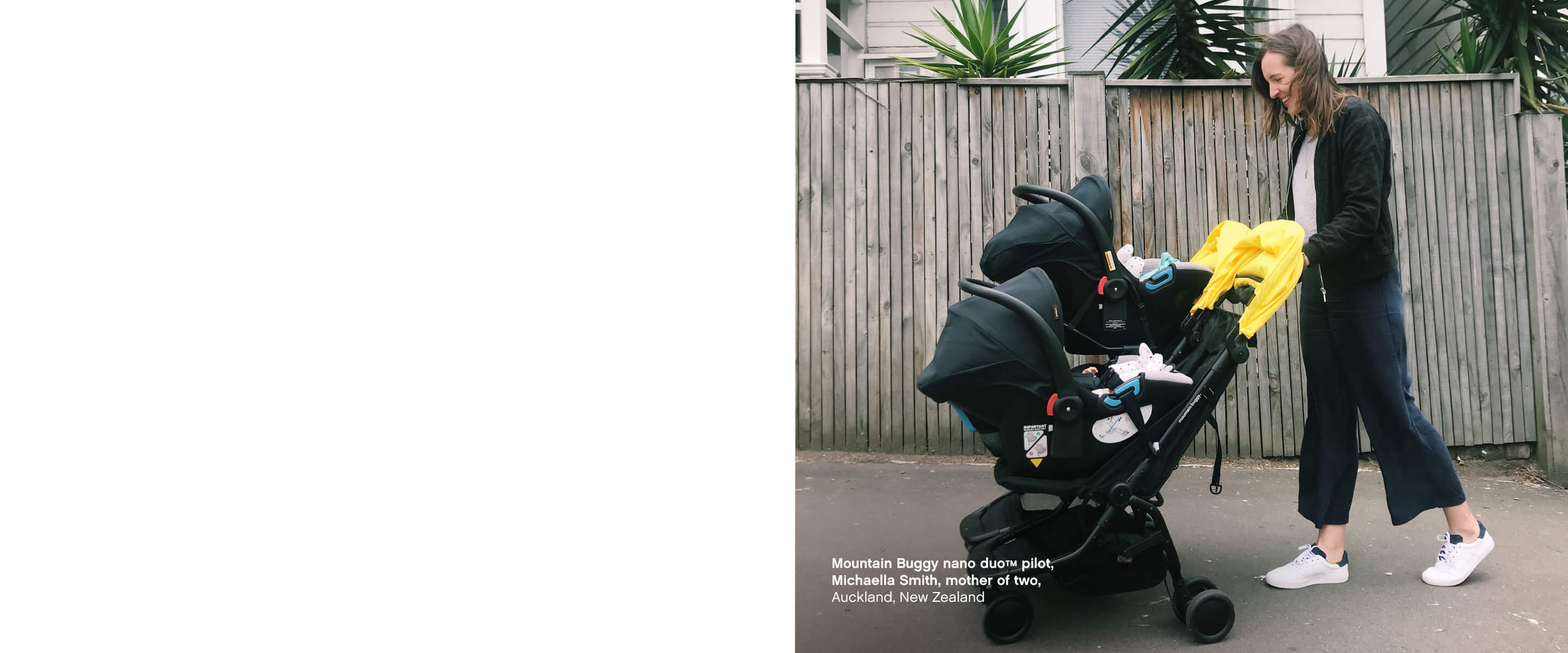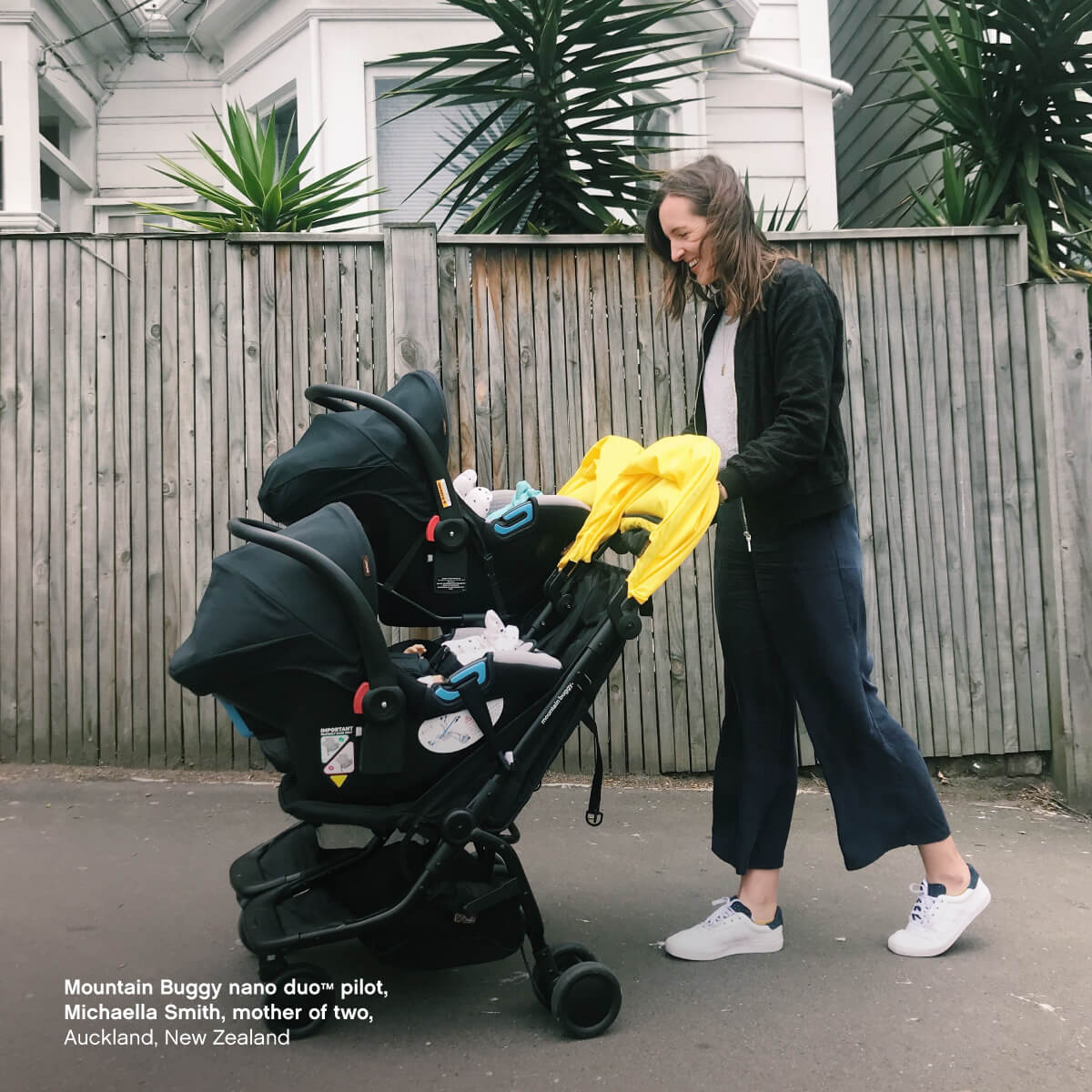 ride as a travel system - sibling OR twins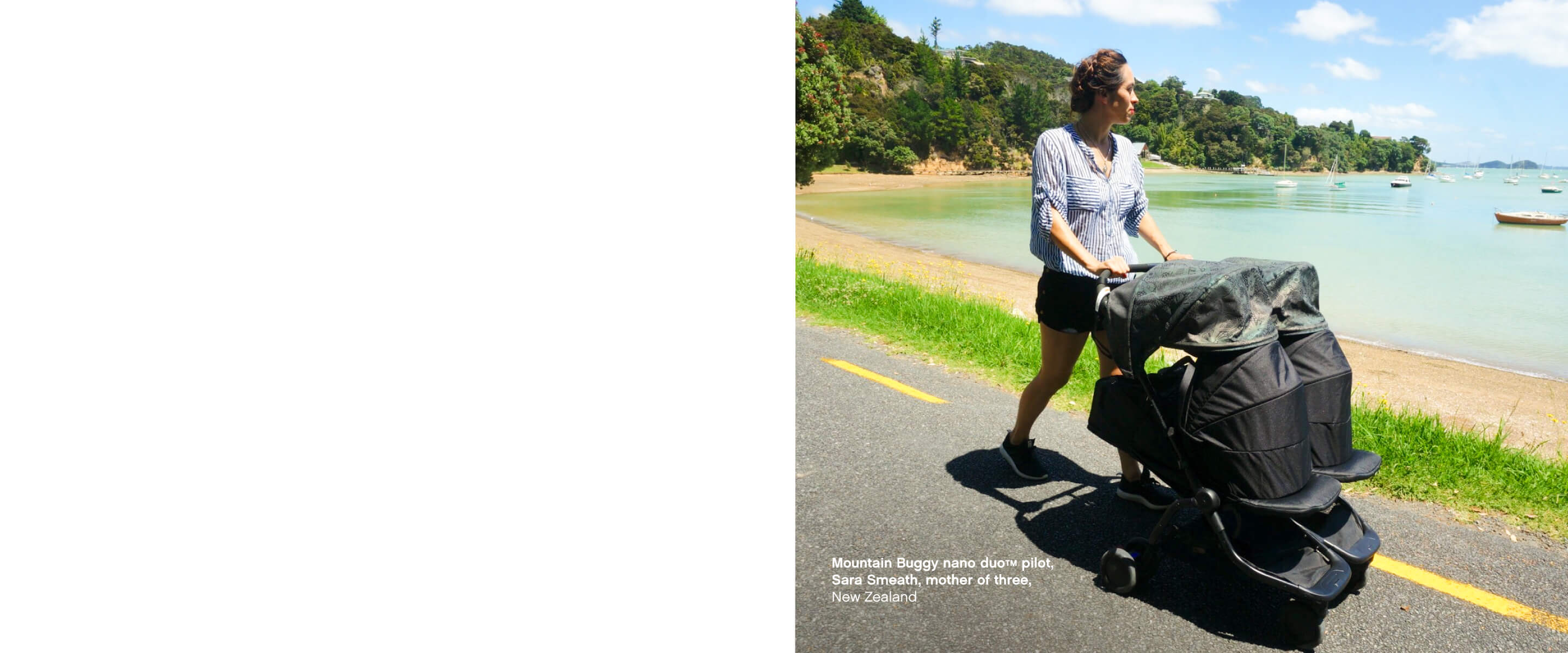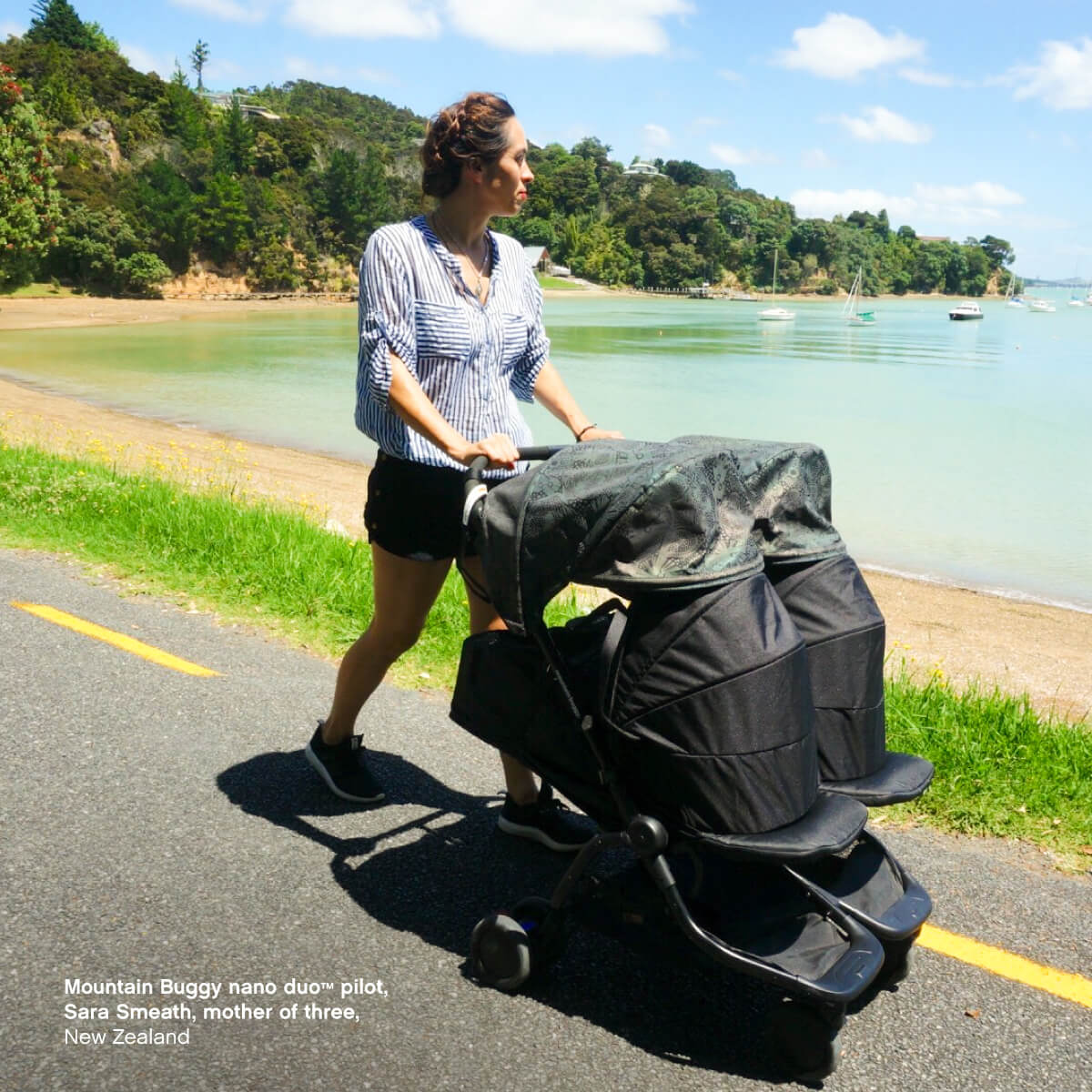 parent facing options for one OR twins
nano duo™ is compatible with an affordable parent facing option - the soft shelled, lie flat cocoon™. For twins, we offer the only option in the world where your newborn twins can still remain touching each other within an urban, lightweight side-by-side. The soft shelled cocoon™ for twins offers a lie flat, affordable bed within nano duo™, where your twin newborns can still remain together to continue that strong bond in those precious early months.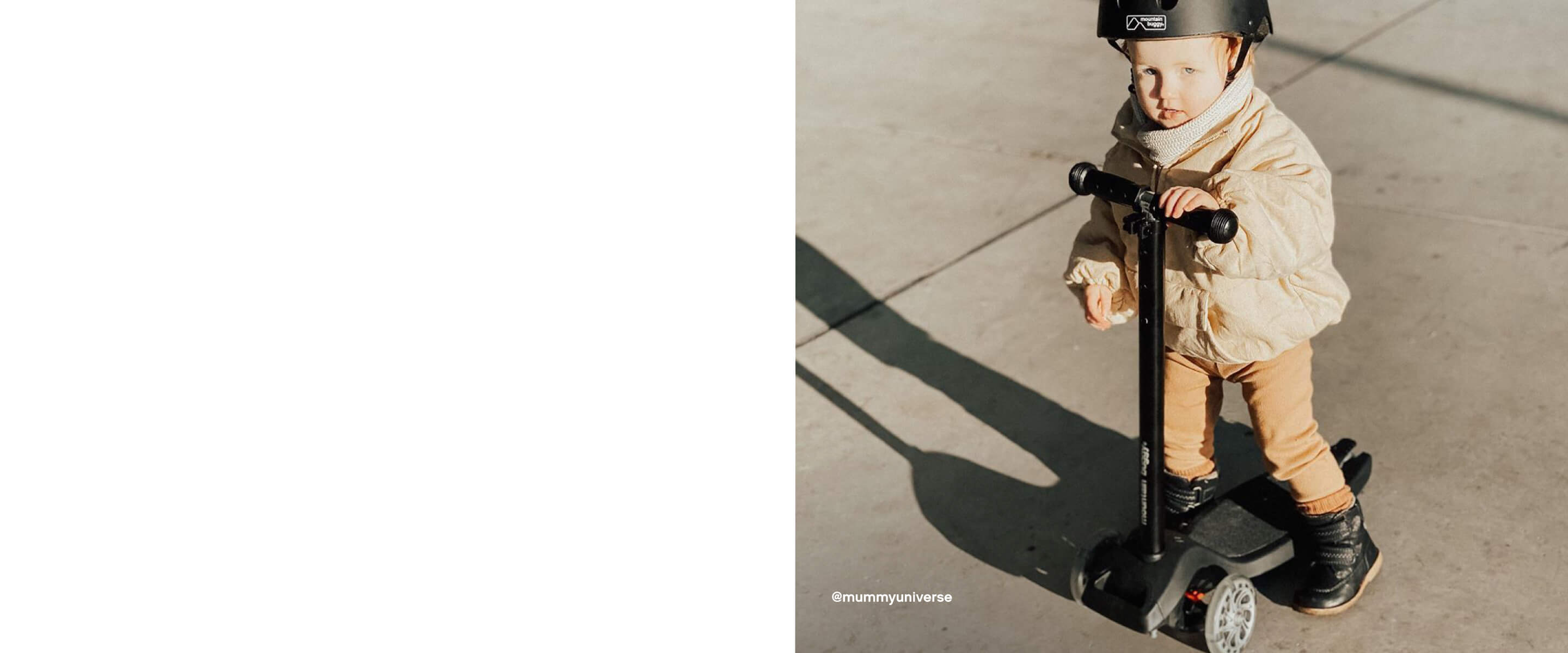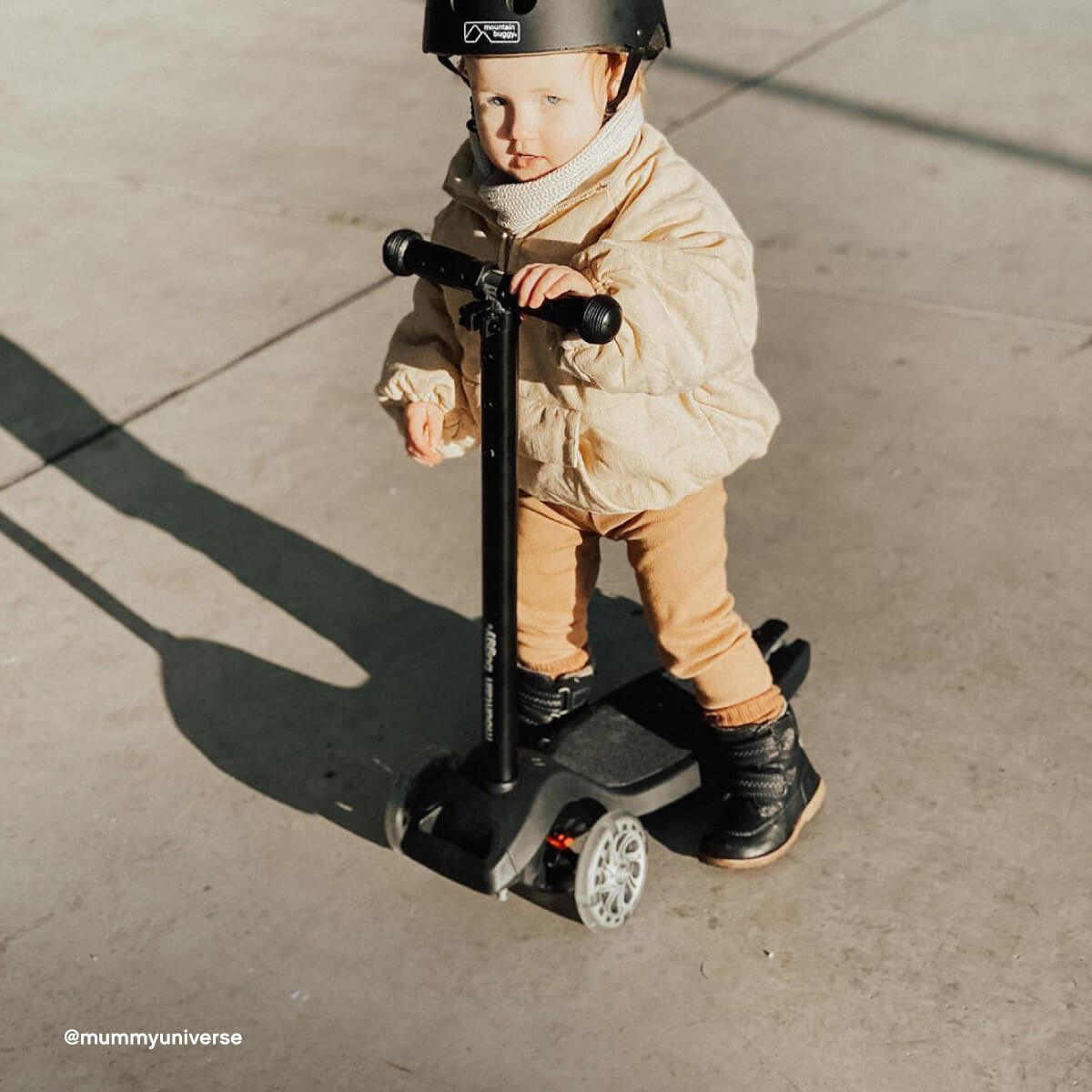 take three
A compact, urban side-by-side usually can't take three children, but with the Mountain Buggy® strength and engineering, you can attach the freerider™ scooter board to nano duo™ for a fun day out.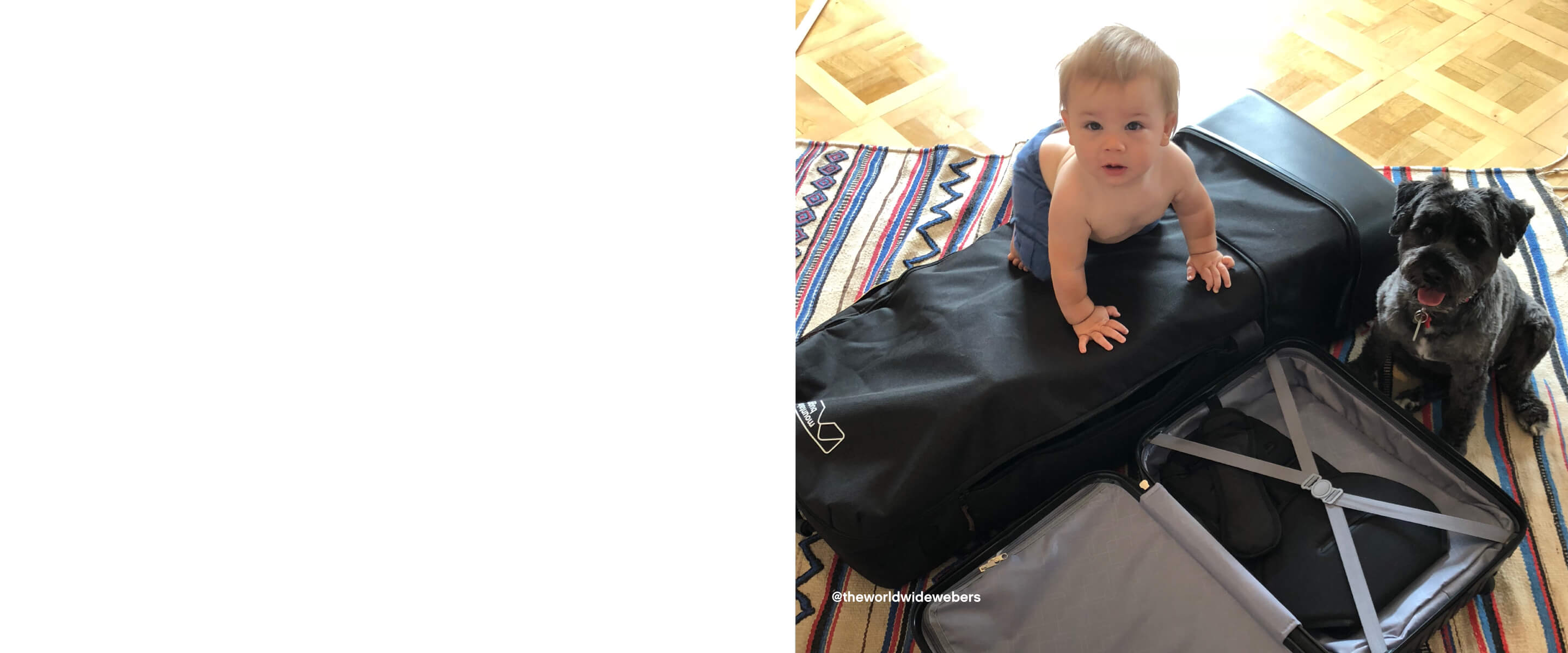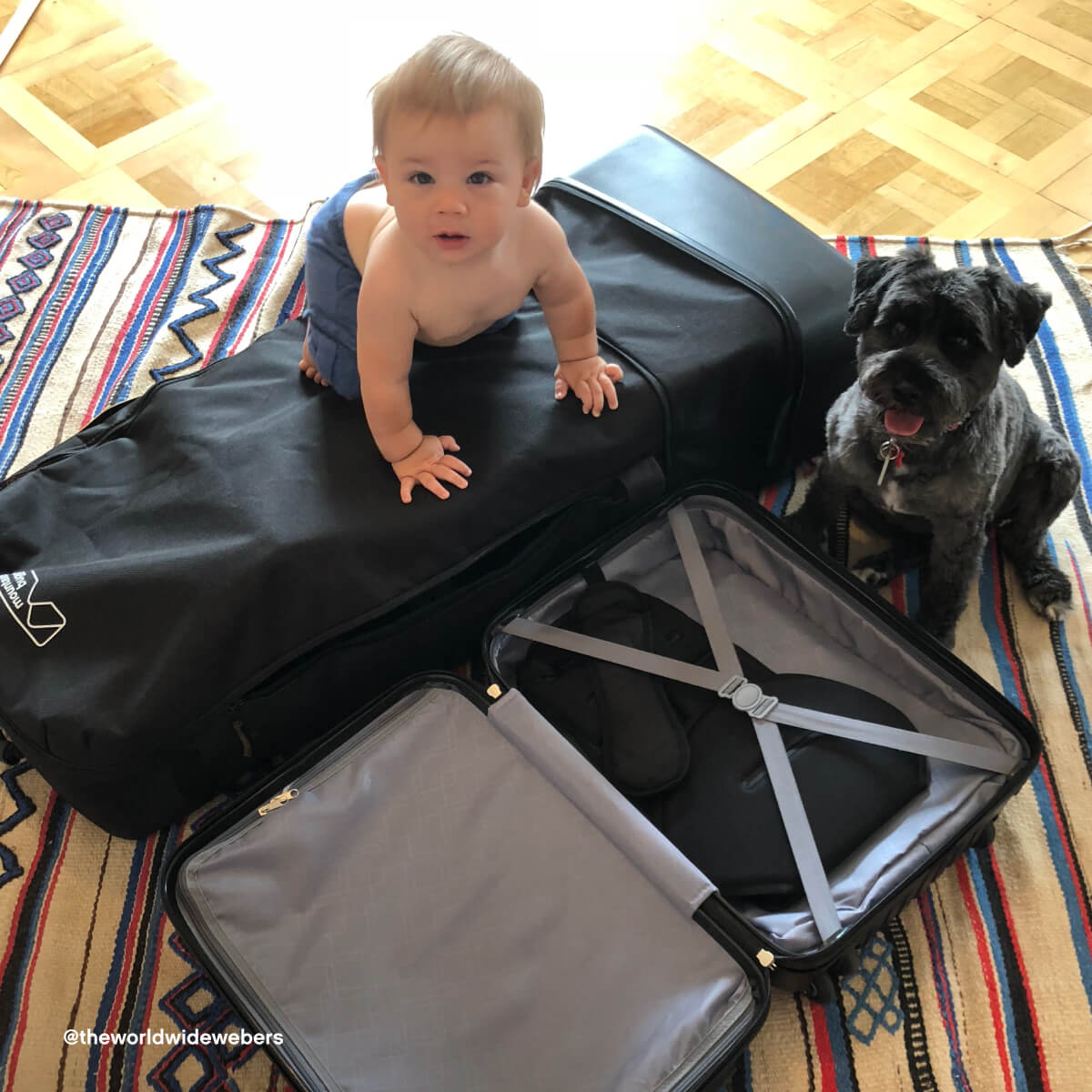 instantly fit for daily urban adventures or travel
Truly one of the lightest side-by-side urban buggies in the market, that folds so neatly and compactly, delivering you instant peace of mind for your daily adventures or travel.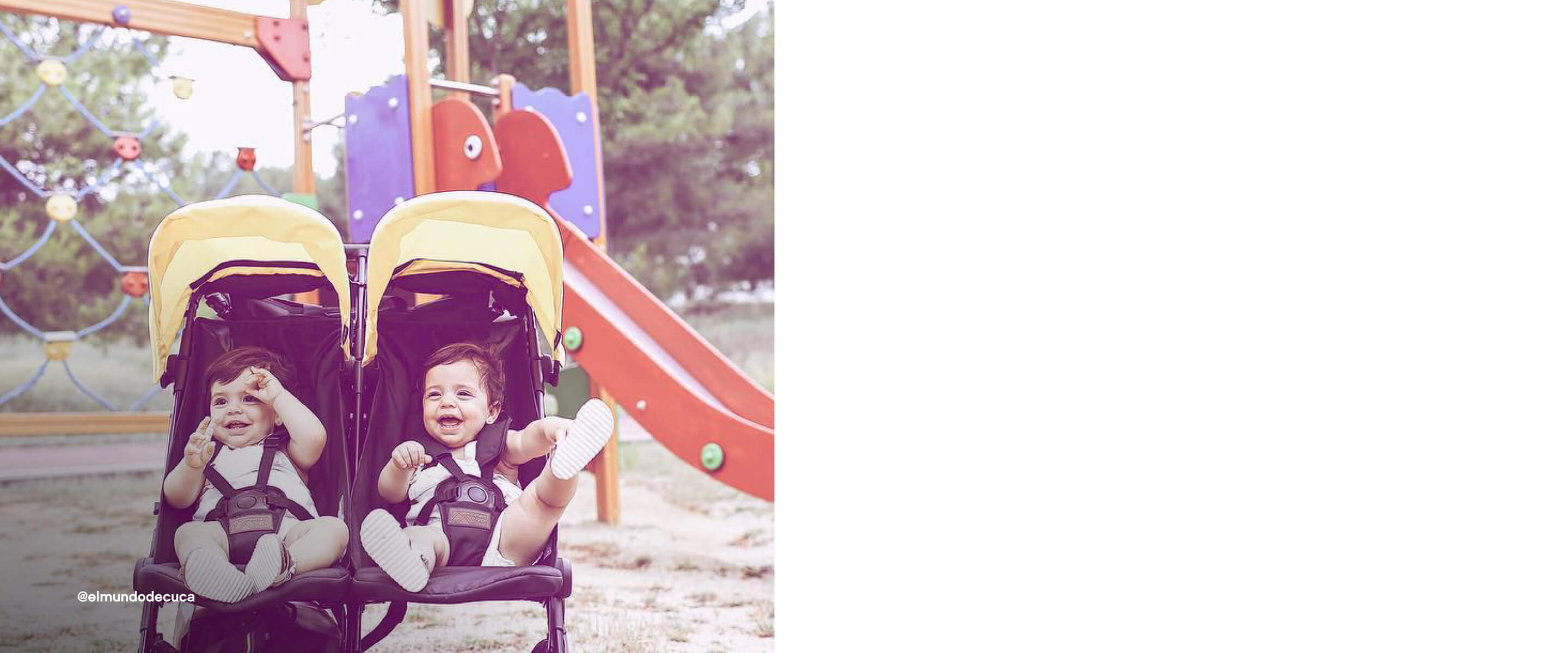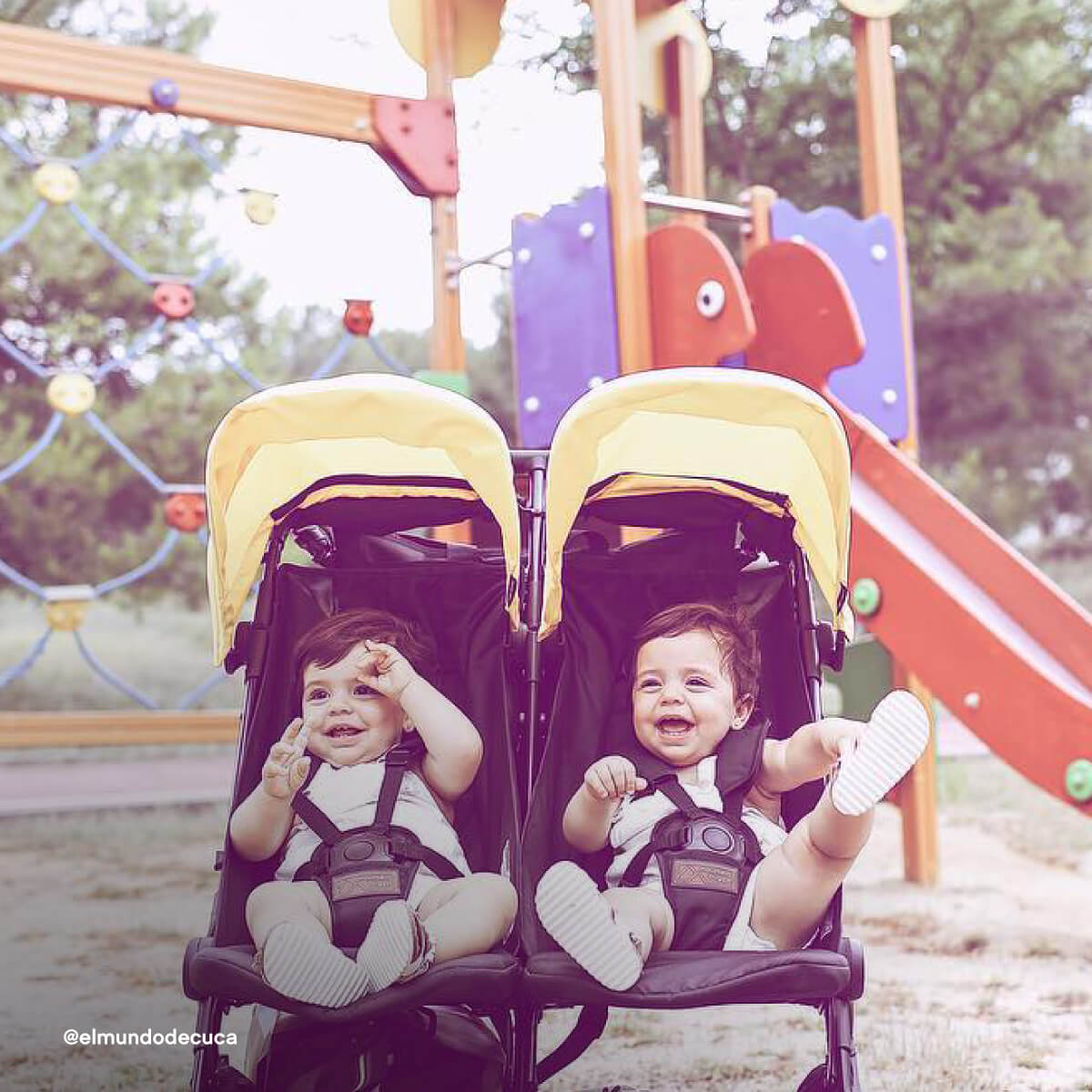 patented innovation
A patented tail free harness has been cleverly designed to keep long, fussy, loose straps out of little hands and mouths for superior safety and hygiene.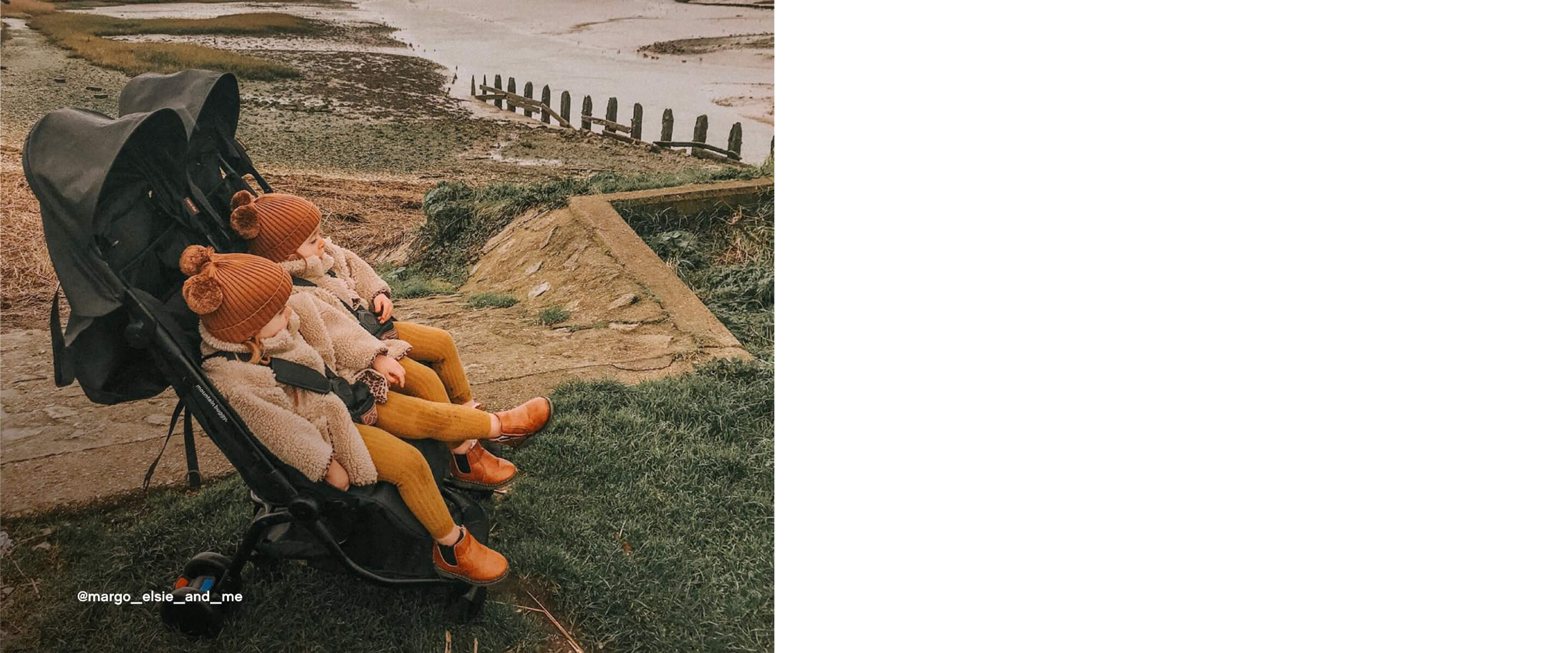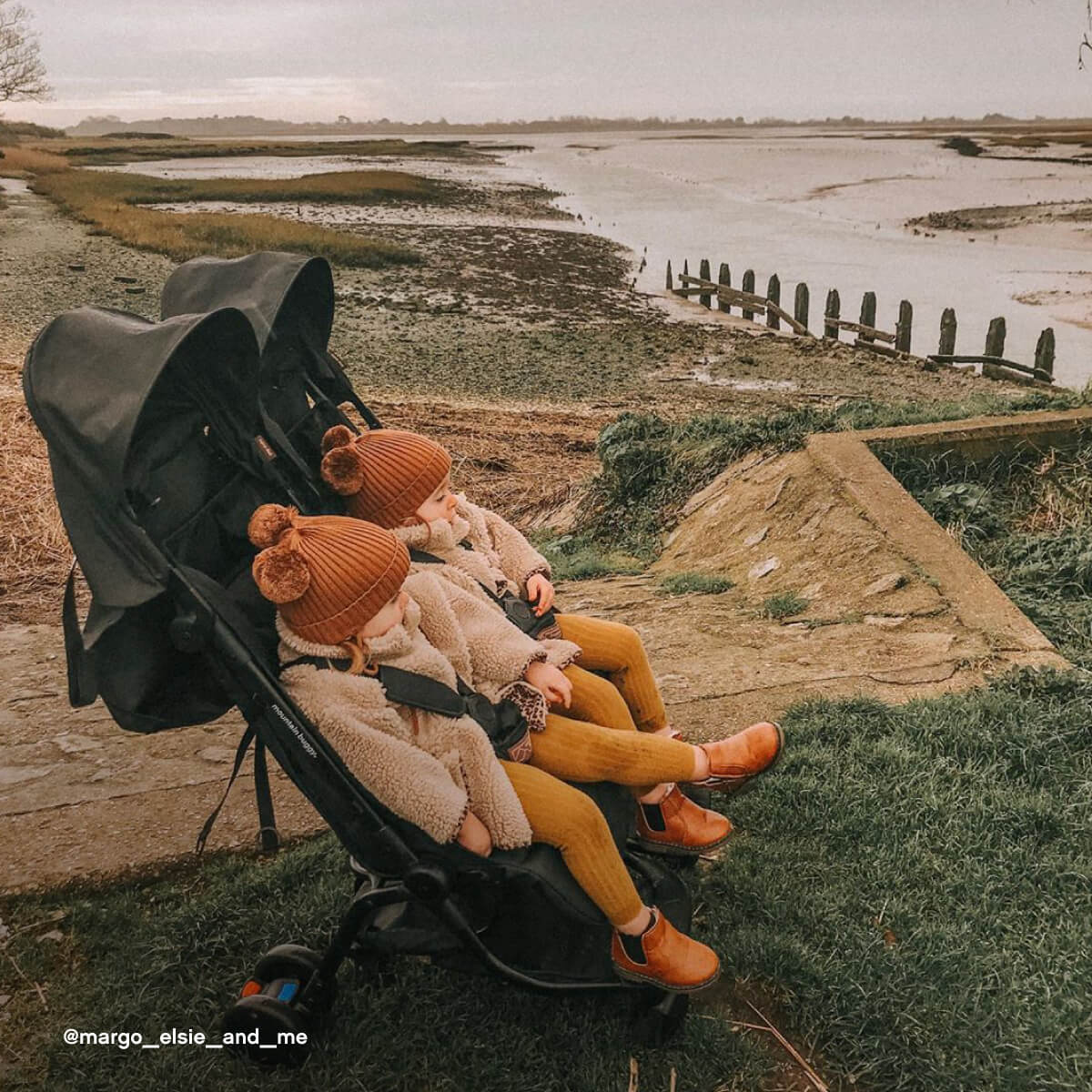 luxury seats
First class fabric sling seating from birth right up to toddler years, with so much more room and comfort for your growing children; outlasting other compact, urban side-by-side buggies in the market. And for those hot days In recline mode, the mesh seat backs allow for better ventilation and air flow, with an additional panel to cover for the cooler days.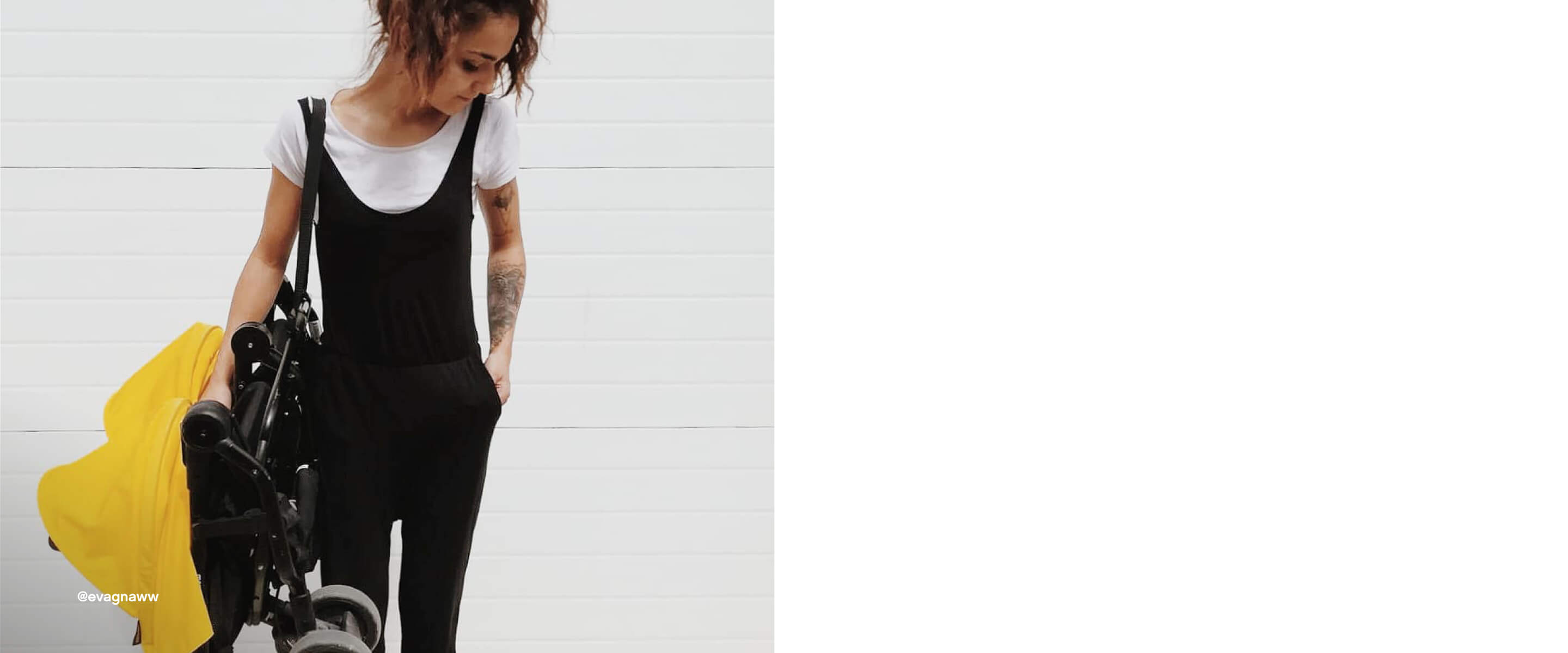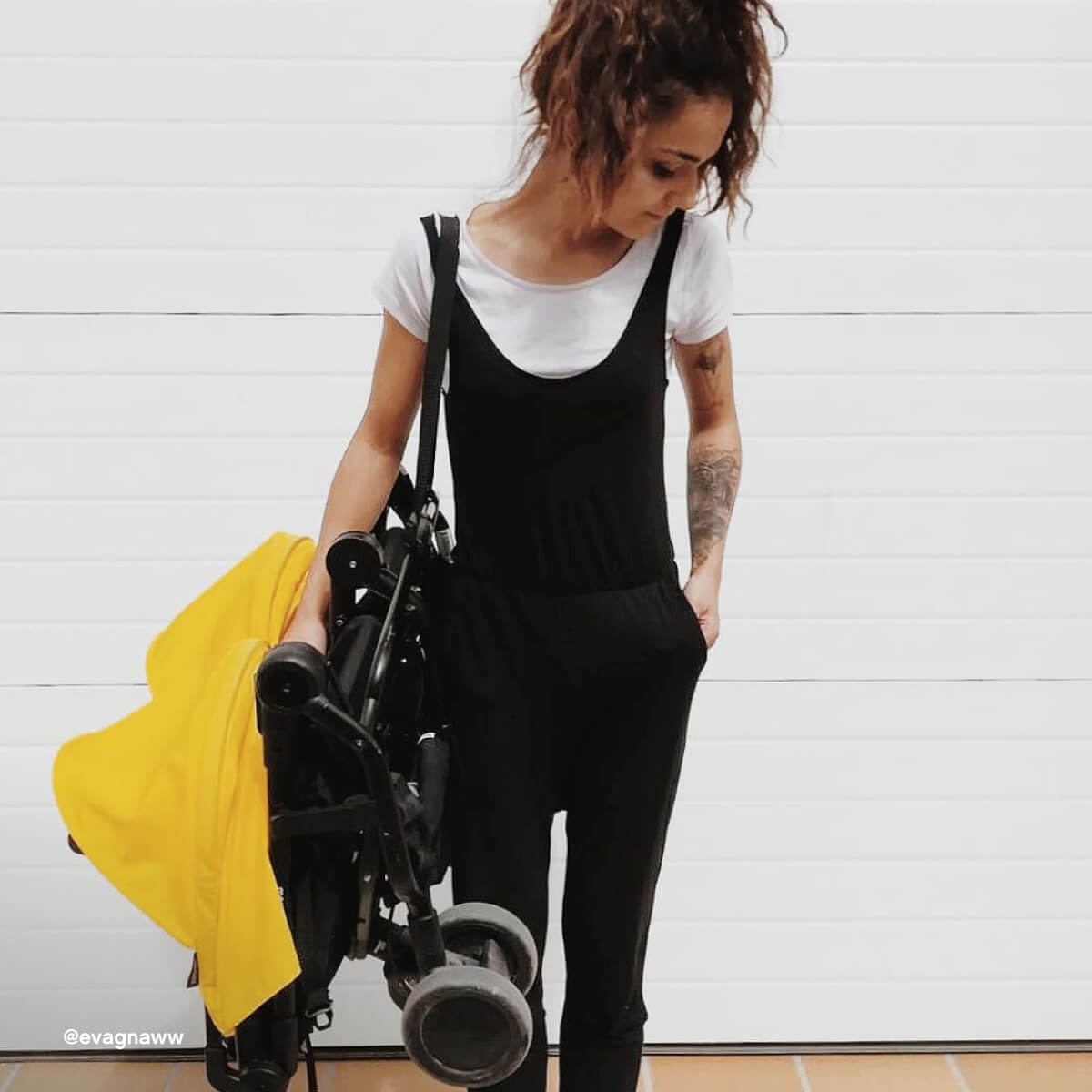 easy hands free transportation
For even more convenience, the shoulder strap can be used when you need to carry your buggy from A to B hands free.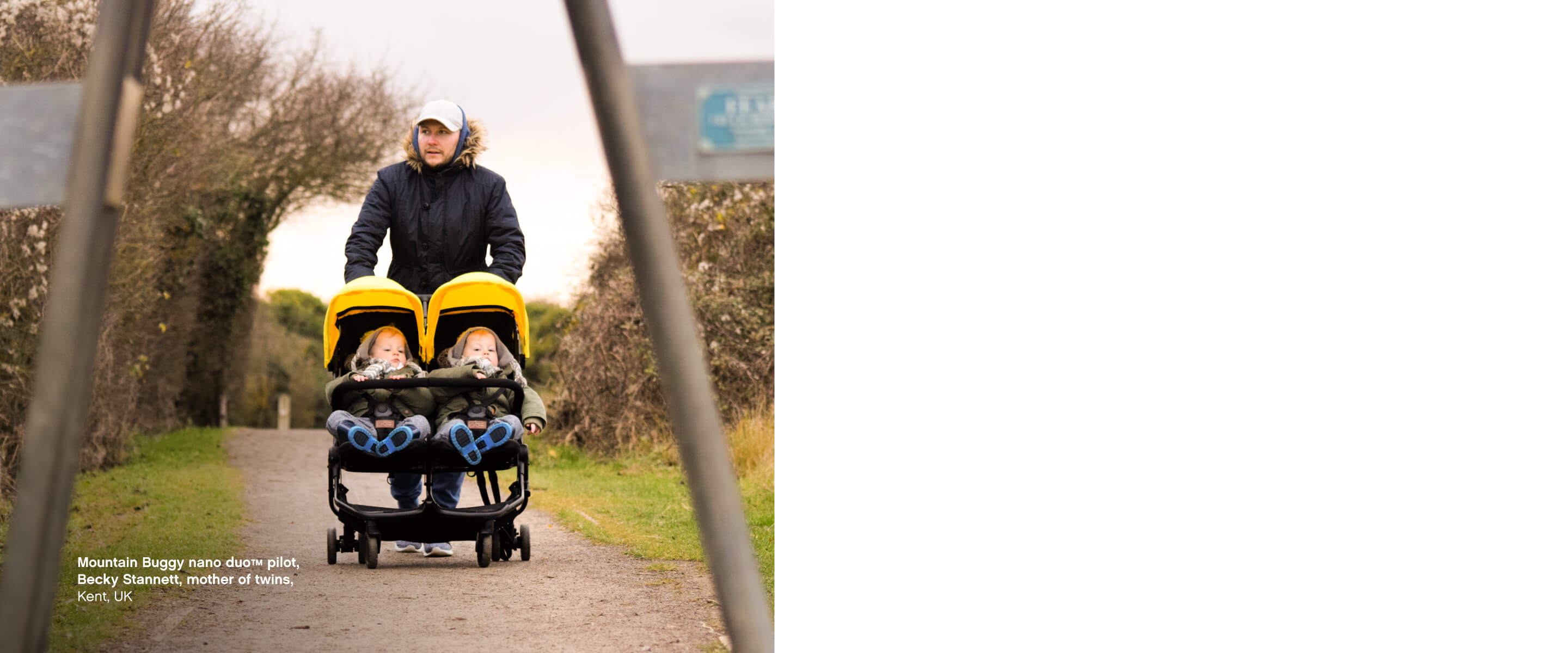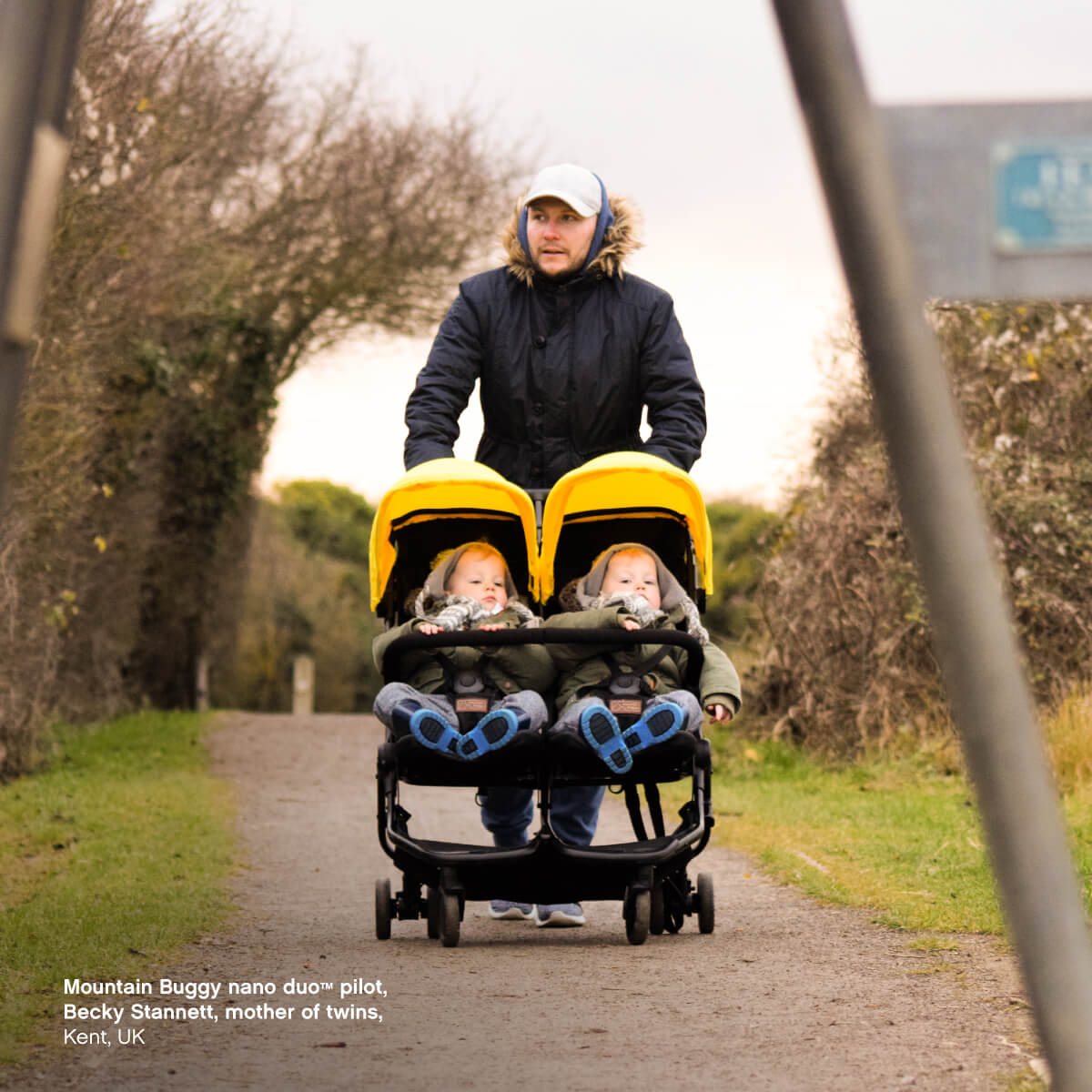 individual adjustable leg rest
For better comfort on those long urban journeys out.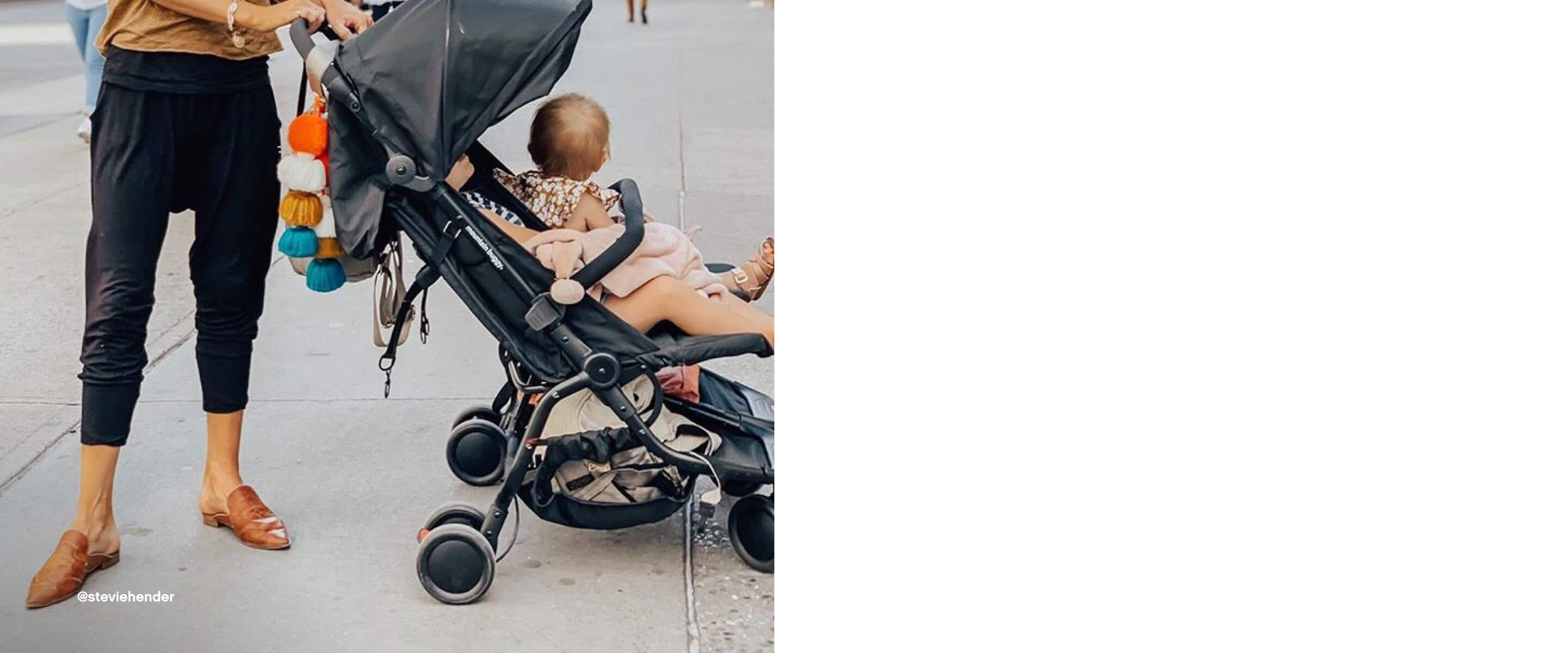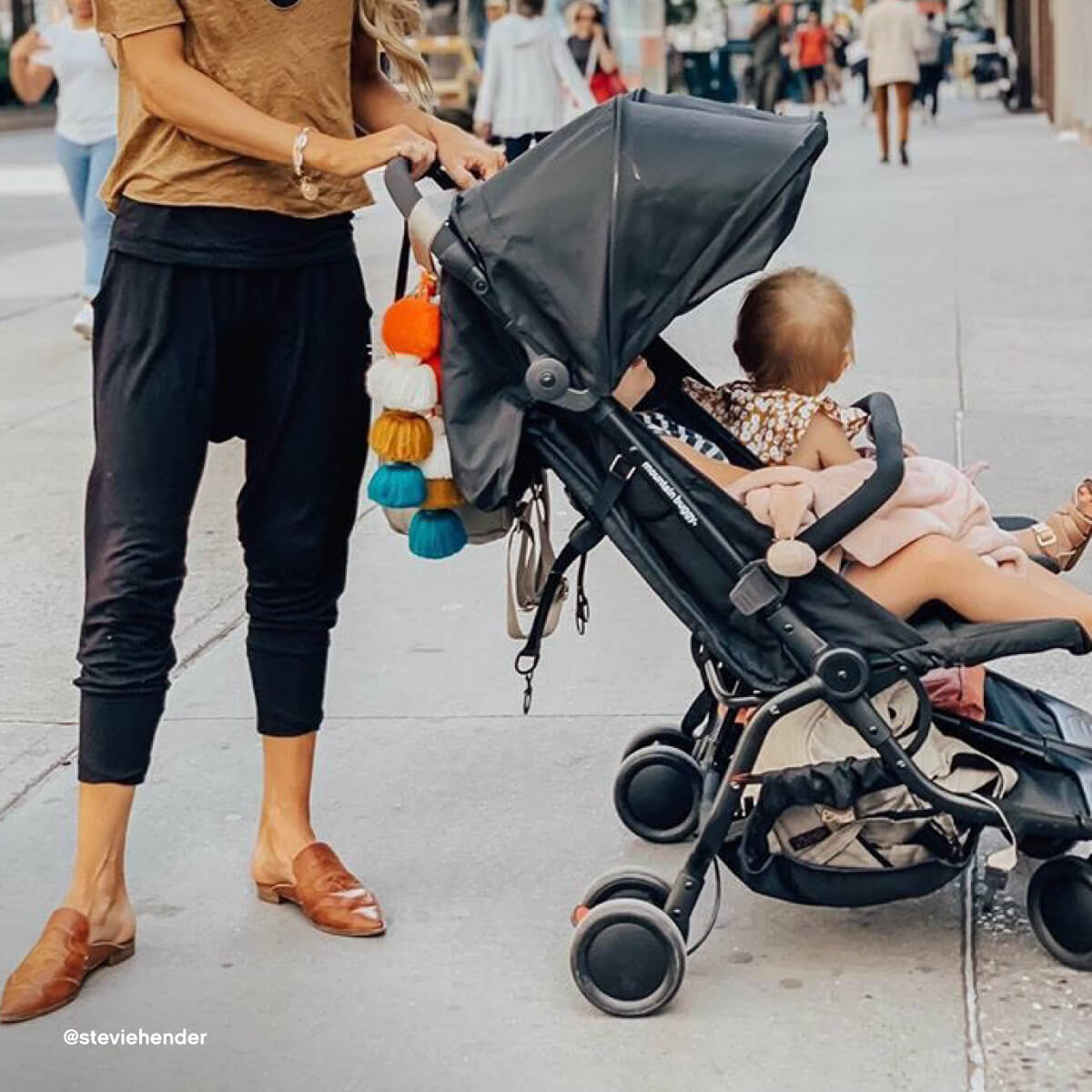 more capacity for storage
Surprisingly, most compact, urban side-by-side buggies don't include a gear tray, but nano duo™ as a roomy gear tray allowing you to take more on your journey.
full features breakdown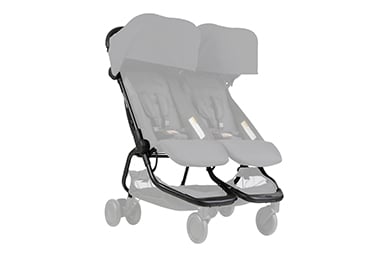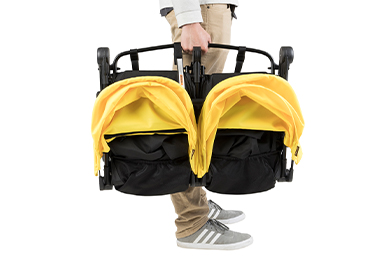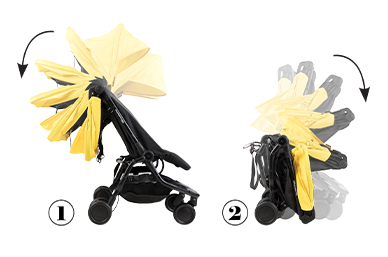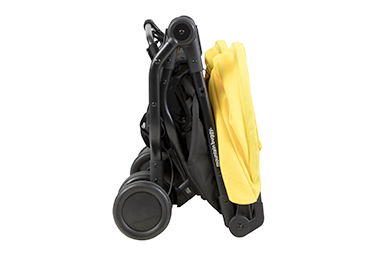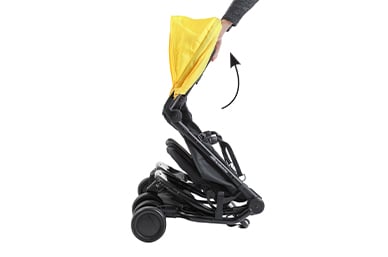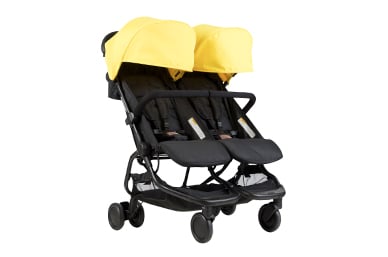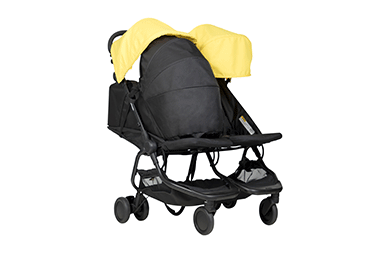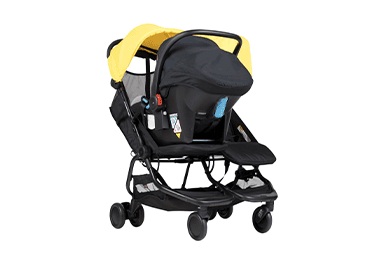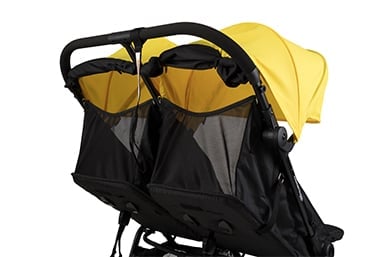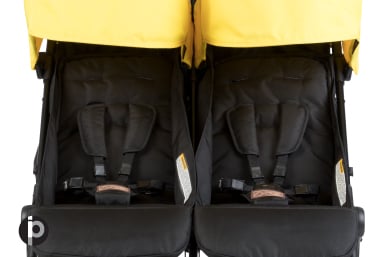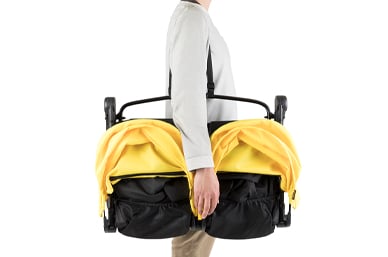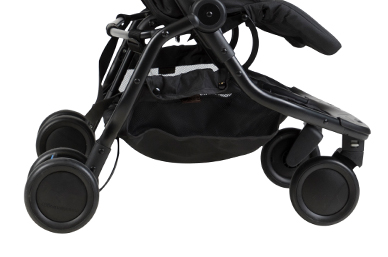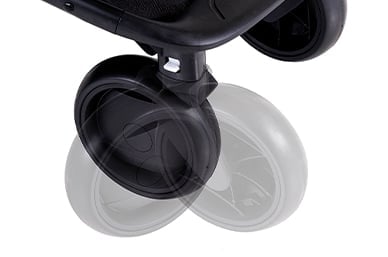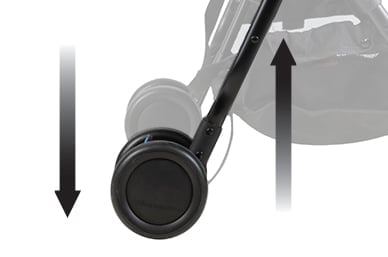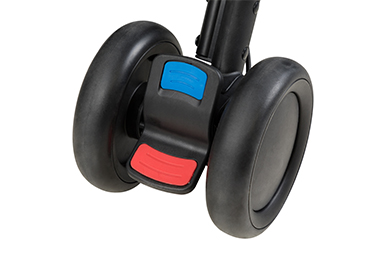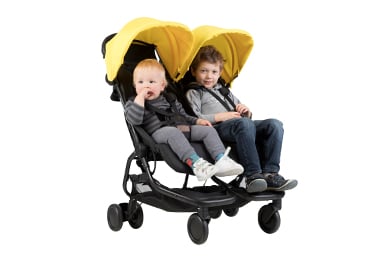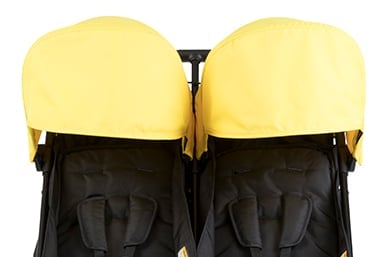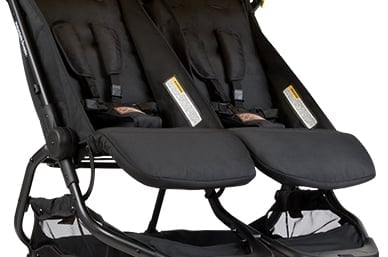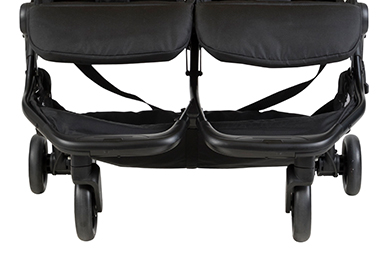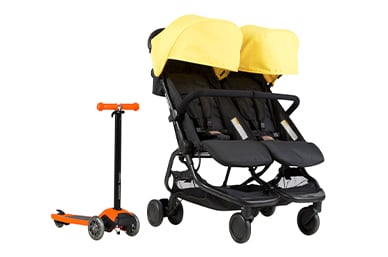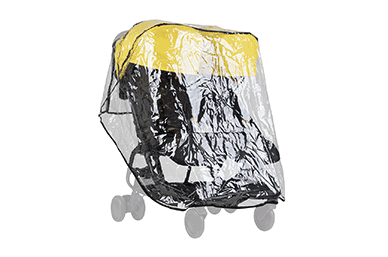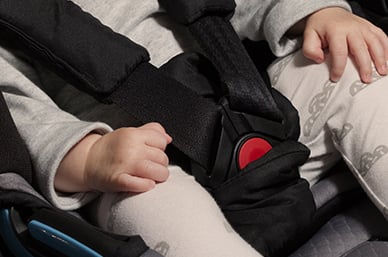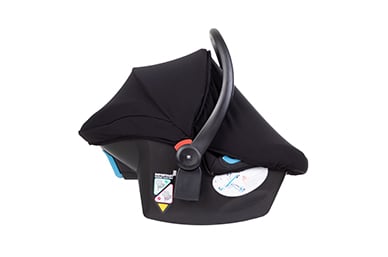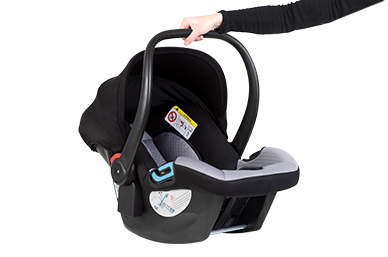 Age range

nano duo™: newborn - 3 years (with cocoon)
6 months - 3 years (without cocoon)

Car seat weight group

protect™ car seat: 0+

Dimensions l x h x w

protect™ car seat:
H59 (with handle) x W44 x D68cm

Fold dimensions

52 x 72 x 32cm

Handlebar height

nano duo™: 100cm / 40"

Lifespan

protect™: 8 years

Maximum load

nano duo™: 15kg per seat (30kg total)
protect™ car seat: 13kg

Product weight

nano duo™: 9kg / 20lbs*
*includes frame, wheels, gear tray, fabric sling seat, grab bar
protect™ car seat: 4kg

Safety certified

nano duo™: certified for the following
markets: Europe, USA, Canada, Aus/NZ, China
protect™ car seat: ECE R44/04

Seat dimensions

46 x 30 x 19cm / 18 x 12 x 7"
46 x 30 x 35cm / 18 x 12 x 14" with leg rest up
80 x 30cm / 31 x 12" with seat fully reclined, leg rest up

Seat width

nano duo™: 29cm

Weight range

protect™ car seat: birth to 13kgs
nano duo™ instructions
Setting up your nano duo™ is easy! Find all the details you need here for how to set up and use!
protect™ infant car seat instructions
Setting up your protect™ infant car seat is easy! Find all the details you need here for how to set up and use!